Frequently Asked Questions
Submit Ads 4 Free is an online platform for delivering real human visitors to affiliate links placed by Submit Ads 4 Free members and owner.
This is a powerful software solution that enables people like you to get your affiliate links, banners and text ads seen, and get the chance to earn extra money from home.
Click the 'Surf Now' button in the members area or 'Surfing Area' on the members area menu and then click 'Surf' to start viewing sites from other members.
You will earn credits for every site you view. Your site will receive one hit for each credit that you assign to your site.
A member earns the amount of credits based on his or her membership level. Free members will earn ½ of 1 credit for a view of a single website or a 2 : 1 surf ratio. Gold members (highest level) earn 1.5 credits for every view of a single website and Silver is in between at 1:1.
Submit Ads 4 Free is free to join and use. We make our money from providing website advertising services.
It's easy and quick to do, simply click the 'Surf' link found inside the Members Area menu and review another member's site that is displayed until the counter counts down.
When the counter has counted down you will see images, click the one inside the box that matches the one to the left of the box and you will progress to the next member's site to view in rotation.
This is how you earn Credits. Keep doing this for as long as you can per Surf session to accumulate Credits that will be assigned to your sites.
This will depend on how long you view ads, but you can do this as often as you like for almost as long as you want.
We have a limit of 3100 Sites surfed each day. A free member will earn 1/2 credit every 7 seconds. Silver Member is 1 credit every 4 seconds and Gold 1.5 credit 3 seconds!
YES! Free members are awarded credits every month at no cost.
We also REWARD members who login each day with a variety of random prizes of advertising.
All membership levels will get a reward for logging in and for being a member of Submit Ads 4 Free, but it will depend upon your membership level as to what you get as a prize.
Higher membership levels produce higher prizes. All members who surf 350 sites each day earn bonus ad impressions for long banners which show in the social profile and other special pages. These are awarded at server reset 12-midnight E.S.T.
Getting started receiving traffic at Submit Ads 4 Free is fast and easy. After you sign-up, you enter into our surfing area and add your website link.
Next you begin viewing other members ads for 10 seconds or more. Each time you view an ad you will receive 1/2 of a credit. This means as a free member that your surf ratio is 2:1. You view two sites to receive one view from another member. This is just one way to earn credits here at Submit Ads 4 Free.
You can also use the co-op feature to earn credits per view you send. Even just logging in each day will earn you credits of some type so it is recommended to LOG IN EVERY DAY!
NO! You just need to login, purchase credits and assign them to your ads. You can pop in every now and then to check your stats.
We have many different credit packs available to purchase which will suit your needs.
This is a te/co-op advertising system which means our members are already out there driving visitors into our website to show them our ads.
When you become a member and add your site, you will see traffic going to it very quickly.
You need to assign the Credits to your sites.
Click 'My Ads' on the members menu and from the drop-down menu under 'Manage Ads' and click 'Sites'.
You can assign however many Credits to each site that you need (must be a whole number).
Each Credit assigned means your site will be shown in rotation once to another Member as they surf.
When you add a site to our system, you will see a column for "Max Hits Per Hour" if this is set to 0 you receive NO hits. You want this to be a positive number like 5, 10, 20, or more depending on how fast you want to spend your credits.
Click 'My Ads' on the members menu and from the drop-down menu under 'Manage Ads' and click 'Sites'.
You can now enter the site name and URL into the boxes provided under the 'Add Your Website' section.
Click the 'Add' button and your site will be checked and you have to confirm it to be added.
Click 'My Ads' on the members menu and from the drop-down menu under 'Manage Ads' and click 'Banners (468x60)'.
You can now enter the banner image URL and target URL into the boxes provided under the 'Add A Banner Manually' section.
Click the 'Add' button and your banner will be added.
Click 'My Ads' on the members menu and from the drop-down menu under 'Manage Ads' and click 'Text Ads'.
You can now enter the text for your ad and the target URL into the boxes provided.
Click the 'Add' button and your text ad will be added.
You can request your password or password change by using the forgot password page that is linked from the login page.
Your passwords are encrypted so we are unable to look it up for you directly, the system mailer will send it to the email on file that is associated with your Account.
If you are still having problems then you can request by support ticket that we reset it to one of our choice and that you can change it after you login.
Please use our 'Ask Admin' button in the members area or click 'Help/Support' on the top menu and then click 'Support'.
We strive to get back to you within one business day.
Click the 'Member's Area' on the top menu and under the 'Account' drop-down click 'Profile'.
On that page you will find a 'Delete My Account' button at the bottom of that screen.

WARNING! This will instantly remove your account and stop all emails from us. Please note this action is final. We cannot recover any information after you delete your account and we will be unable to restore your deleted account back.
It is located in the 'Members Area' under 'Step 2' in the 'Important Links & Information' section.
NO! This should go without saying but any traffic found coming from autosurf sites will get the user account suspended indefinitely. Autosurf traffic is not viewed by any real human... What good would that do to help you make sales?
Any member found doing this will lose their account and all credits and earnings, even upgraded members will be removed.
1. Visit Gravatar.com.
2. Click "Create Your Gravatar".
3. Fill in the information shown in the image below.
IMPORTANT! Use the same email that you use for Submit Ads 4 Free.
NOTE: You can attach more than 1 email to a gravatar account and choose which photo is your avatar for each email.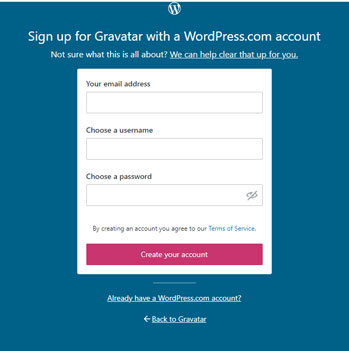 4. You will get a message in your email for confirmation. 
5. Back to gravatar.com, login, and click "My Gravatars" as shown in the image below.

You will end up seeing a message that looks like the image below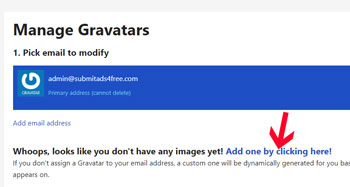 Once you click Add One, you will have options.

Simply choose which way you would like to save your photo. Once your photo is set, you can expect to see it showing at Submit Ads 4 free in a few minutes. The same gravatar image will show as your avatar on any site where you have the same email as your Gravatar.com account.
On the top menu click 'Members Area' and then under 'Account' click 'Speak Easy'.
As a side note about the personal blog, don't forget to go to your Social Branding page to set up your Speak Easy Link.
By adding your own link to your Social Branding page, a link to your personal blog will appear in the Surf Bar next to your Photo. This gives you a great opportunity to create Brand Integrity throughout the Submit Ads 4 Free system.
Absolutely! Free members earn 20% commissions on purchases. Silver Members get 40% Commissions on purchases. Gold members are at 50% commissions!
Min Commissions Request $10.
Admin Pays On Anyday from Food Game | G-Pay | Wise | p2p VIA Bank or Venmo or Cash App | Check, Money Order, and Wire.
You can now use the piggy bank feature to pay for advertising and upgrades. With this option, you can convert your commission balance to your purchase balance and then use it onsite. Visit the Piggy Bank Here
Make sure to fill in your payment details on the Profile Page Admin will pay commissions on any day.
Minimum request is $10.
You can currently request cash out via - Skrill, FoodGame, Gpay, Wise, Uphold, Bitcoin any altcoin, Check, Money Order or Bank Transfer or Wire.
To easily add headlines, videos, text links and image links to your blog posts you can use the Easy Blog Post Creator.